Accounts Payable Automation solutions that make it all happen for the Transportation and Logistics Industry
The transportation and logistics industry is driven by an emphasis on operational excellence, process improvements, and cost minimization. And, with margins constantly reducing, businesses within this sector are increasingly moving away from paper-based processes to ensure effienciency and meet customer demand.
With Basware, now it all just happens. Our AP Automation solutions not only provide cost savings and improved efficiencies, but also help mitigate supply chain risk while delivering 100% visibility of overall spending, suppliers, and processes.
The benefits of AP Automation for the Transportation and Logistics sector


What can you achieve with Basware when True Automation happens?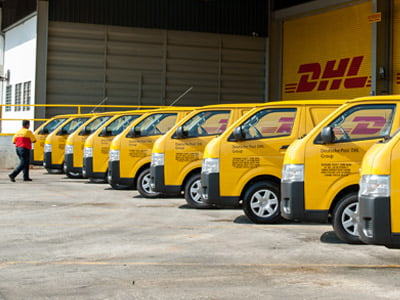 DHL Express Case Study
DHL is a leading global brand in the logistics industry, offering unrivaled logistics services. With about 350,000 employees in more than 220 countries and territories worldwide, DHL connects people and businesses securely and reliably to enable global trade flows.
DHL Express worked with Basware to automate every element of their procure-to-pay process, in 100+ countries around the world. The results were 100% invoice recognition and improved efficiencies across the business.
Rollouts are happening smoothly and on time. We can do this hand-in-hand with an upgrade, or while moving to another ERP. Basware is seen as a work package within the whole project, never as a bottleneck.
Transport and Logistics Industry Factsheet
Automating your accounts payable process means lower processing costs, fewer exceptions, fewer manual tasks, and the ability to redirect limited resources to more strategic activities.
Download our Transportation & Logistics factsheet to learn more about Basware's AP automation benefits.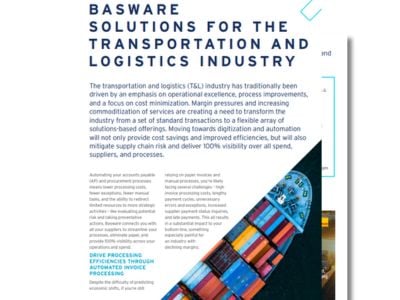 Why customers work with Basware to make automation happen
True Automation
Cutting-edge technology powered by AI & ML that eliminates all manual processes
Complete Coverage
Global compliance capabilities and the ability to integrate with 250 ERPs across more than 175 countries
Deeper Expertise
40 years of specialized experience implementing best practices and reducing risk across finance operations
FAQs
What other industries do you support with AP Automation?
At Basware, we are proud to deliver an AP Automation solution that's versatile to meet the needs of many industries. We firmly believe that no industry should be left out when it comes to streamlining their accounts payable processes, which is exactly what companies achieve with our solution.
Whether you're operating in the biopharma, construction, consumer goods, education, energy and utilities, financial services, healthcare, hospitality, manufacturing, oil and gas, real estate, retail and ecommerce, or transportation and logistics industry, rest assured, we've got you covered.
Each of these industries has unique needs and challenges, and our solutions are tailored to meet those specific demands. To see how we serve your industry, visit our industry-specific pages and explore how we can make a difference in your accounts payable operations.