Accounts Payable Automation solution that makes it all happen for the Retail and eCommerce Industry
Over recent years, the retail industry has transformed from primarily brick-and-morter operations to online shopping, encouraging significant changes in consumer buying behaviors. In a highly competitive environment with increasingly tight margins, retailers must find ways to drive cost savings and maximise profitability.
With Basware, now it all just happens. Our AP Automation solutions help companies finally automate their complex, labor-intensive invoice processes to deliver process efficiencies and cost savings, while enabling real-time visibility of overall spending.
The benefits of AP Automation for the Retail and eCommerce industry


What can you achieve with Basware when True Automation happens?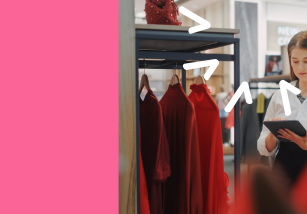 Staples Business Advantage Cast Study
Staples, the world's largest office products company, needed a way of delivering e-invoices directly to their customers' back-office systems. They came to Basware to invest in innovation that could deliver results.
Download their case study to learn how Basware's e-invoicing solution helped Staples reduce their paper consumption and how their employees are now able to provide alternative e-invoicing methods for both large and small customers.
Electronic invoicing means working more intelligently, reducing operational costs and helping to preserve the environment.
Retail Industry Factsheet
The rise of internet shopping and major shifts in consumer buying patterns have reshaped the retail industry. Innovative technologies like artificial intelligence are paving the way for greater development of retail solutions that deliver process efficiencies and cost savings.
Learn more in our Retail Industry factsheet.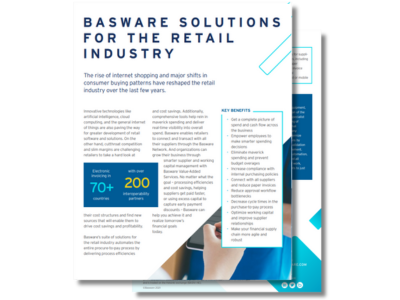 Why customers work with Basware to make automation happen
True Automation
Cutting-edge technology powered by AI & ML that eliminates all manual processes
Complete Coverage
Global compliance capabilities and the ability to integrate with 250 ERPs across more than 175 countries
Deeper Expertise
40 years of specialized experience implementing best practices and reducing risk across finance operations
FAQs
What other industries do you support with AP Automation?
At Basware, we are proud to deliver an AP Automation solution that's versatile to meet the needs of many industries. We firmly believe that no industry should be left out when it comes to streamlining their accounts payable processes, which is exactly what companies achieve with our solution.
Whether you're operating in the biopharma, construction, consumer goods, education, energy and utilities, financial services, healthcare, hospitality, manufacturing, oil and gas, real estate, retail and ecommerce, or transportation and logistics industry, rest assured, we've got you covered.
Each of these industries has unique needs and challenges, and our solutions are tailored to meet those specific demands. To see how we serve your industry, visit our industry-specific pages and explore how we can make a difference in your accounts payable operations.