Region:
Europe, Global, North America, APAC
About Fluxym
With 19 years of specific Source to Pay experience and more than 400 projects, Fluxym has become a world leader in procurement transformation. Fluxym offers Advisory services on any S2P transformation project, as well as integration services. Fluxym is based in Paris, Montreal, Toronto, New York and Singapore.
Partner Contact:
Address:
15 rue de la Faisanderie, 75116 Paris, France
Email Address:
info@fluxym.com
Phone Number:
+33 1 56 90 55 80
Visit Website
How Clarins achieved a harmonised AP process with Basware & Fluxym
Clarins is one of the most prestigious beauty brands in the world. Present in 141 countries and ranked #1 in European luxury skincare, the company produces all its products in-house in France.​ The company prides itself on its strong customer relationships, ability to innovate, and dedication to responsible beauty.
As a successful business with a global presence, Clarins was processing over 60,000 invoices manually each year. ​It needed a new software solution – one that would help standardize and automate invoicing processes across multiple commercial entities.
With the help of Basware and Fluxym, Clarins was able to transform its supplier accounting processes. Download the full case study now to discover how Clarins achieved 100% spend visibility.
Once again, Fluxym is proud to be Basware # 1 Partner worldwide. This award is the result of 15 years partnership and trusted relationship with Basware
Partner awards


2021 Business Excellence Award
Awarded to the partner driving the best results across 3 critical business areas:
Net New Annual Recurring Revenue (ARR) generated in mentioned Fiscal Year
Basware best practices in implementation
Competence Development (Progress against Basware's training and certifications programs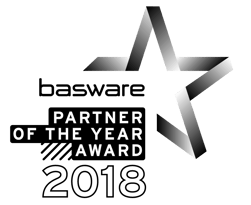 2018 Partner of the Year Award
Basware's Partner of the Year is Fluxym, following Fluxym's significant contribution to Basware's business in 2018.
Awarded to the partner with the highest Net New Annual Recurring Revenue (ARR) generated in FY2018.