Basware Services
Basware aligns with you to help you connect to our solutions and networks, empower you to realize the value of these solutions, and accelerate adoption and optimisation of your processes and services using real-world data insights.
This means we're here to help you achieve your business outcomes at every stage of your journey - from implementation, integration, or deployment of our solution(s), to maximizing adoption, boosting performance, and leveraging best-practices and the latest innovations.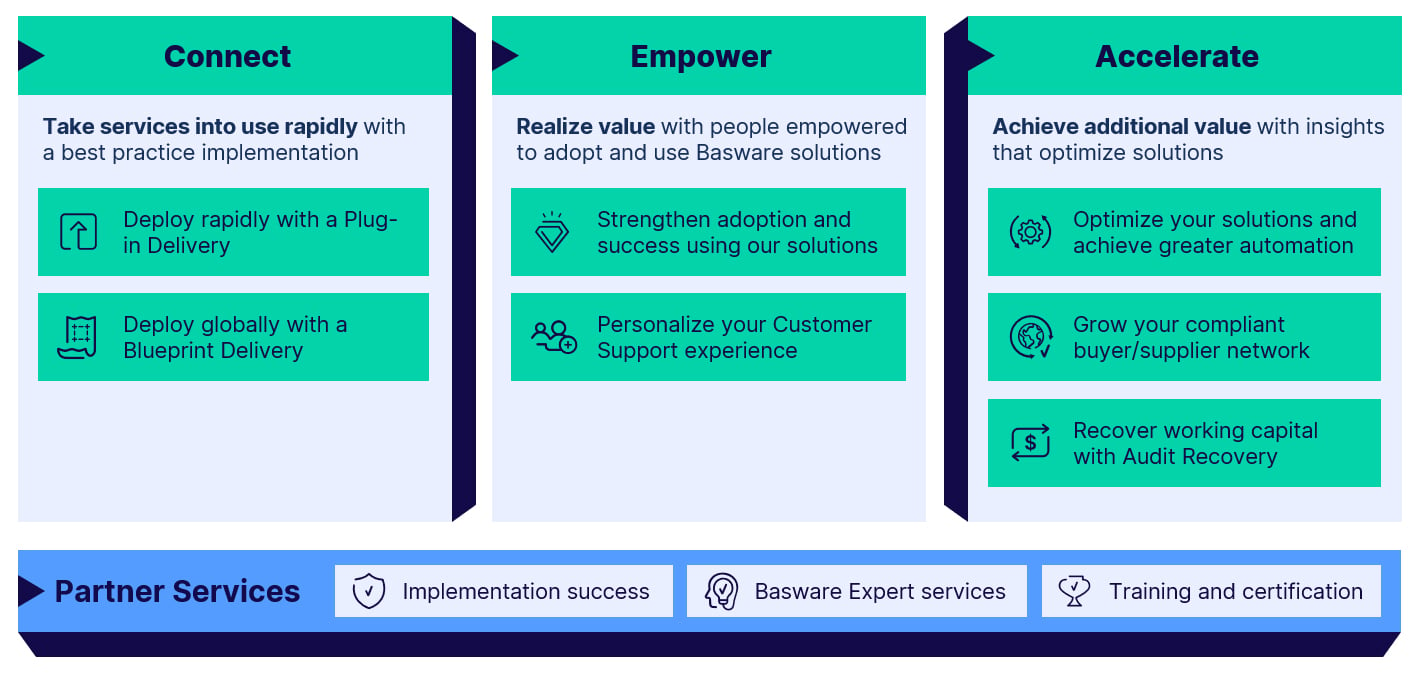 Connect
Implementing and deploying your Basware solution is the first and most important step towards reaching your desired business outcomes. Each year, we help over 500 customers implement, expand, or roll out their Basware solutions and services. And when we do, we are not only unlocking the value these solutions can offer you, but we are also working with you to ensure you actually achieve that value.
Implementation projects, delivered by Basware or by our leading partners, follow proven project methodology and implementation approaches designed to achieve the fastest time to value and provide you with the greatest flexibility in your global rollouts. You can be confident that with Basware, you are equipped with the right resources, relevant experience, and the right tools to make your implementation a success.
---
Basware Connect
Gain Rapid Value by Implementing Best Practice
Basware Connect service covers solution implementations and expansions, program and change management, and integrations.
For solution implementations, we provide two main ways to connect to our services: Plug-in or Blueprint delivery service. Plug-in delivery is rapid to implement and provides the fastest time to value, while in Blueprint delivery we provide maximum flexibility by first modelling the process, then rolling out in single or multiple phases.
Our Connect services helps:
Manage the impact of change
Integrate across global and complex landscapes
Adapt to global compliance requirements
Drive true digital, business, and spend management transformations
Supplier Enablement Services
Enable Supplier Early and Encourage to Go Electronic
Once your procure-to-pay solution is up and running, you will want to increase the amount of incoming electronic invoices, purchase orders, and catalog content to get the most out of your system. If you don't have a predetermined plan ready to encourage your suppliers to send their invoices electronically, you'll find it takes longer to get suppliers and buyers up to speed – resulting in delayed ROI. So, you need trusted experts to help get suppliers onboard, quickly.
We work with you to increase your e-invoicing and e-ordering and optimize your purchasing catalog content, so you can benefit from increased automation and data quality, improved supplier collaboration, and streamlined processes. We offer services with different levels of onboarding support, from DIY supplier enablement toolkits to fully managed onboarding services. They can be used when needed to drive targeted supplier onboarding outcomes or leveraged continuously to better support your day-to-day operations.
Empower
Once you are connected, you immediately benefit from the value created using Basware solutions. We work together to ensure you empower this value through resources and training that empower your most important assets: people
---
Basware Support
Personalise your support
Our support services are scalable, and you can select the right level of support for your specific needs. Basware Essential Support Service is available for all customers. Basware can also offer Premium Support services for customers seeking a higher level of personalized care for their demanding business operations. Premium Support enables you to scale up your support service levels to meet the dynamics of your business, including the complexity, volume, and criticality. It also helps you deliver additional value through Premium Support service experiences for your users.
Reach us anytime
Our online Support Portal and Knowledge Base with advanced search functions are available for all Basware customers. Basware Support can be reached anytime as our chat is available 24/7 for queries and questions regarding updates of any open case.
Through the online portal, you can easily contact our Support Team, access Knowledge Base, and follow the progress of your tickets.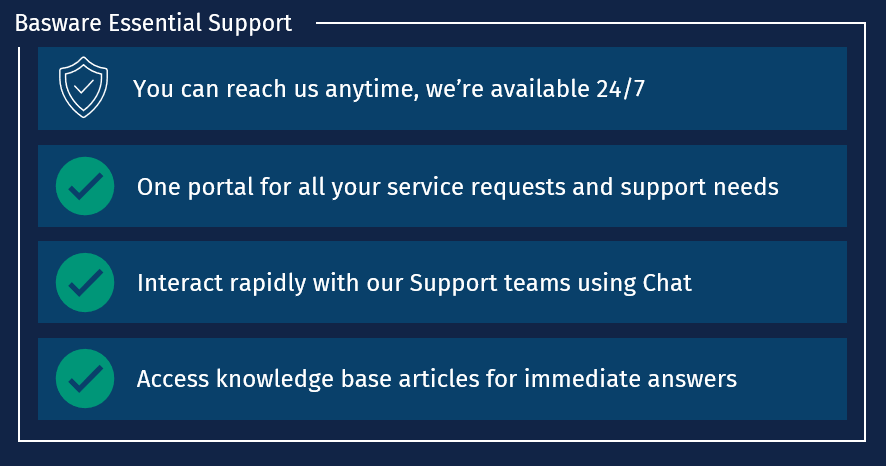 Our support consultants are ready to answer your questions and provide troubleshooting in case of product issues. In the extensive Knowledge base, you can search for articles for immediate answers to maximize the value delivered by Basware. In addition to the portal Basware support can be contacted via phone. Up-to-date information on access points and business hours for each region/country are shared with the customers.
Report and track your support cases easily
Reporting a Support case is easy through the online portal. You just need to fill out the Case form available through the portal and provide the necessary information and any relevant attachments for the case. Once a case is submitted, it can be tracked and followed up via the online portal.
Your Hub for Success
Basware's Success Hub, embedded in Basware's Customer Support Portal, is a growing resource designed to help empower customers. The hub provides users with useful resources that empower them to succeed with our solutions and to easily request services and additional support from Basware. It includes a diverse range of knowledge articles, best practices, and links to educational material such as our online training courses for AP Professionals.
Basware Training Services
Build up your capabilities
Help unlock the value of your Basware solutions and services through improved user capabilities and higher user adoption. Our training services provide you with specialized training courses and access to Basware training professionals.
We offer standardized training courses and classroom-style training experiences to help you build expertise within your teams and boost confidence when working with our solutions. Our catalog includes courses targeted to specific roles, such as Basware AP Pro for AP Professionals. Our training professionals are also able to work with you to tailor courses to target or accelerate specific learning outcomes.
Accelerate
Adoption of new solutions require new knowledge and ways of working, so partnering with services to accelerate your time to value is critical to realize the return on your investment
Our experts work alongside your team to set goals for continuous process enhancement by offering the right tools and support to ensure you get the most from your Basware solutions. This is achieved through continuous measurement and benchmarking, leading to higher service adoption and better performance outcomes.
---
Customer Success Services
Ensure Continuous Process Improvements
Basware Accelerate service strengthens your partnership with Basware and focuses on helping you succeed through robust collaboration, governance, and guidance. Your designated Customer Success Manager guides you along established paths, helping you to avoid pitfalls, adopt best practices, and accelerate your time to value.
Your tailored Success Plan drives a clear common agenda, that's easily measured against to track progress. Together, we act proactively on real-time insights to drive results. This includes benchmarking your adoption and process maturity to ensure you get the most value from our services.
Optimization Services
Reach Your Business Outcomes with Greater Agility and Confidence
Having the right capabilities to support both your plans and daily operations is fundamental to success. Basware Consulting Services helps you continuously optimize, adapt and expand your Basware solutions, network, and services with designated Basware professionals that work with you on a recurring schedule.
Our Service Catalog, which you will find when you log into your Customer Success Hub, speeds up the delivery of services and changes that are commonly requested, and brings greater transparency to the delivery process. When requesting through the catalogs, you'll receive visibility into the prerequisites, deliverables, steps, and costs associated. You'll also be able to easily track the progress of your request.
Our continuous consulting service, known as Basware Optimize, helps you not only secure the right capabilities to act rapidly on insights, but also optimizes those capabilities with resources from Basware – since we understand your business and your working rhythms. It means you can be more agile, allowing you to quickly drive better, more predictable, and accelerated outcomes.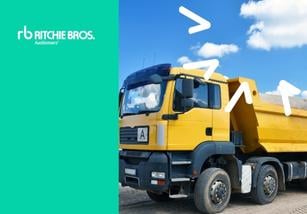 Ritchie Brothers achieved 65% automatic matching upon implementation, and Basware's Reporting tool is providing immediate visibility over vendor spend.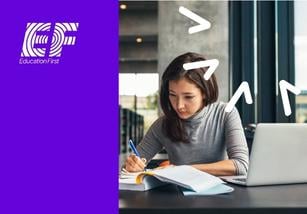 Find out how Basware helped Education First achieve increased user adoption, global compliance, reduced cycle times, and close to zero downtime.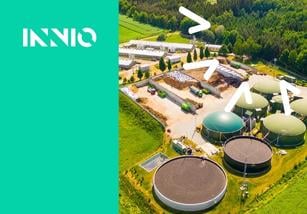 When INNIO went through a Private Equity buyout they needed a new AP solution implemented at speed, read how Basware helped deliver this.